"Everything we see is constantly changing. And nothing appears without a constant spiritual field in which it appears. Allowing change, the uniqueness of every phenomenon is revealed to us, which is momentarily brought forth in us as a part of us. Thus we recognize in spirit that we are nothing and in our heart we experience that we are everything." (Daniel Hertlein)

"Practice self-inquiry and you will break habitual thought chains and reaction patterns. Your awakened Kundalini energy will rejoice as it can rise more and more unhindered and straightforward. We can briefly go into the psychological issues that go along with this, but I am more interested in supporting you to dissolve the identification with the body-mind." (Daniel Hertlein)

"Listen, feel and laugh … your mind is so tricky. Again and again it tries to escape from its self-created prison. With the question of the right key … No key fits … no action helps. See the imprisoned one … and ask yourself who is the seeing one. And then you can laugh. Let's laugh together. Isn't that wonderful?" (Daniel Hertlein)

"In yesterday's meditation, the ascended master Paolo Veronese conveyed to us very clearly how we can embrace our Uniqueness in depth to experience our Oneness. By accepting his invitation and following his instructions, the aliveness in our heart gets expression and we participate through our being-ness in a divine plan that he serves in connection with the white brotherhood." (Daniel Hertlein)

"The body is a receiving station for fine vibrations … open yourself and start to communicate. To feel deeply is the communication with the spiritual world. Receive and send …" (Daniel Hertlein)

"When we leave our hands open and we don't even think about what we could/should give and take, we perceive a very special fragrance of freedom within us … which is so pure that we fall in love with it. Following love, we are always close to this fragrance … and our actions are full of light." (Daniel Hertlein)

"Clairvoyance makes it possible to perform targeted light touches for the liberation of mature souls. The sacred light dissolves ancient karmic structures that push themselves from the depths of the unconscious into consciousness to be received, felt and released. Every act of purification – no matter how challenging – is a gift of grace that makes you more transparent and permeable." (Daniel Hertlein)

"Yes, I take you by the hand and together we dive into the depths of the heart so that divine light falls on it and fills it with wisdom." (Daniel Hertlein)

"Observing only accumulates information and cultivates knowing consciousness. Let the observer disappear through direct experiencing and you will bring consciousness back home to awareness." (Daniel Hertlein)

"Having a mind that is open to everything and attached to nothing means to live freedom. And you should do absolutely nothing to achieve that. The nature of the mind/your true Self is always already there. It is all about realizing THAT." (Daniel Hertlein)

"The life enveloped by the mind must first liberate itself so that an immediate heart experience opens up. This is the prerequisite for the deeper immersion in the wisdom teachings about the Self. Then, in Satsang, the silent touch in the heart can lead you into pure bliss … and you truly understand. My master once said: "To understand the teachings, you need a "mind" that understands them." (Daniel Hertlein)

"In order to live what you are, you do not need to manipulate the contents of your mind. Release the identification with your mind and your true Self will shine more and more through the simplicity of your existence. No past, no future … no thoughts in the now. Life takes care of itself. Happy in/as timeless presence. Choosing this again and again is spiritual practice." (Daniel Hertlein)

"The world is full of knowers and critics. But where are the sentient ones of non-being … those who let themselves be brought forth through direct experience and share what is alive in them – open, spontaneous, free? Not as the next something, but as … momentarily changeable …" (Daniel Hertlein)

"Do not forget that there are true souls of light who pray for you … who support you in transforming the destructive in you. One day you may do the same for others." (Daniel Hertlein)

"In order to withdraw the referring attention from the world of appearances, a deep desire for truth is needed. When you lose interest in a self-created reality, your attention can rest in the totality of all things. No thinking, no movement – no mental content … open hands … empty." (Daniel Hertlein)

"When there are no thoughts, the one light shines in the most beautiful colors." (Daniel Hertlein)

"When you make it a habit to dwell in the land of silence, your spirit senses open more and more and you feel the divine light working on you to purify, strengthen, shape and awaken you to new life. It is an intense process in which you are initiated by the masters of light into the different dimensions of being. On the day, the divine light finally lives in you, God will also live in YOU." (Daniel Hertlein)

"In sleep, the practice, learning and teaching continues for an initiate. He/she uses the sleeping time and visits the highest schools of the spiritual world. There he/she receives teachings from God-realized beings and remembers them after waking up or/and the teachings reveal themselves to him/her to the full extent during his/her serving activity. Likewise, he/she has the possibility to stand by souls in need of help during the night to give them valuable light impulses for their healing process. Mostly he/she appears to the calling souls in their dreams and helps them with their inner ascension." (Daniel Hertlein)

"Our spiritual practice activates and forms a light body – also called a rainbow body in the Buddhist tradition. Abiding in the true Self is the essential key. As a seer, the light floods into the body-mind and transforms it. The light body process takes us through deep processes of redemption and brings forth the pure colors of our being." (Daniel Hertlein)

"The body-mind emerges within you. The attention rests in the totality. It happens what happens. Just as it is – from moment to moment. And yet nothing happens at all. No change. The Self." (Daniel Hertlein)

"You see what happens from moment to moment and your heart feels it … You experience more and more the "You" as an everlasting presence that accompanies you. Your attention rests in the totality of all things and there is no reference to the appearances in the mind. Absorption happens through your love for God. Only grace … lets you enter into the presence of the true being. Far away from time and space the last separation disappears." (Daniel Hertlein)

"Nothing you see can be you. Everything you see comes and goes. That is the nature of things. Do not move. Stand still. Inner heart movement. And the silent witness. You." (Daniel Hertlein)

"Life is so colorful. Our energy field shows the most beautiful colors when we can accept the facets of life in depth. Everything happens in the space of our spiritual heart. And we just see the eternal change." (Daniel Hertlein)

"Your intention directs your attention. Whatever you choose, it immediately begins to show in the body-mind … and you are in the midst of a process of materializing. And you attract primarily that which fits that energetic vibrational quality. When it comes to liberation, don't choose the perfection of your roles in life. Free yourself from the idea of being a person in this world by not relating to the contents of your consciousness. Go beyond that. Liberation is naturally connected with the fulfillment of your tasks." (Daniel Hertlein)

"The beauty of a satsang lies in the truthfulness of the encounter. When the aliveness in the heart finds space and expression – even without words – we are authentic and begin to see each other. Both the uniqueness, the special sound, and the one, unchanging keynote become perceptible. In deep truthful experiencing we notice how everything is a harmonious part of the divine symphony." (Daniel Hertlein)

"Through our spiritual practice, we allow each person to come alive in our heart. Each encounter carries with it a unique timbre that unfolds in the heart space and gives us the opportunity to discover our interconnectedness. Thus, each exchange becomes a flow of experience that takes place within us, as a part of us. Without forcing the living into conscious, detached units, the heart remains present and free of shadows. Fulfilling joy, whether gentle or strong in its expression, is grounded in the openness and softness of the heart." (Daniel Hertlein)
Unshakeable peace
Excerpt from the online satsang from 19.01.2023
The illusion of separateness
Excerpt from the workshop from 04.02.2023
Enlightened activity
Excerpt from the satsang from 16.02.2023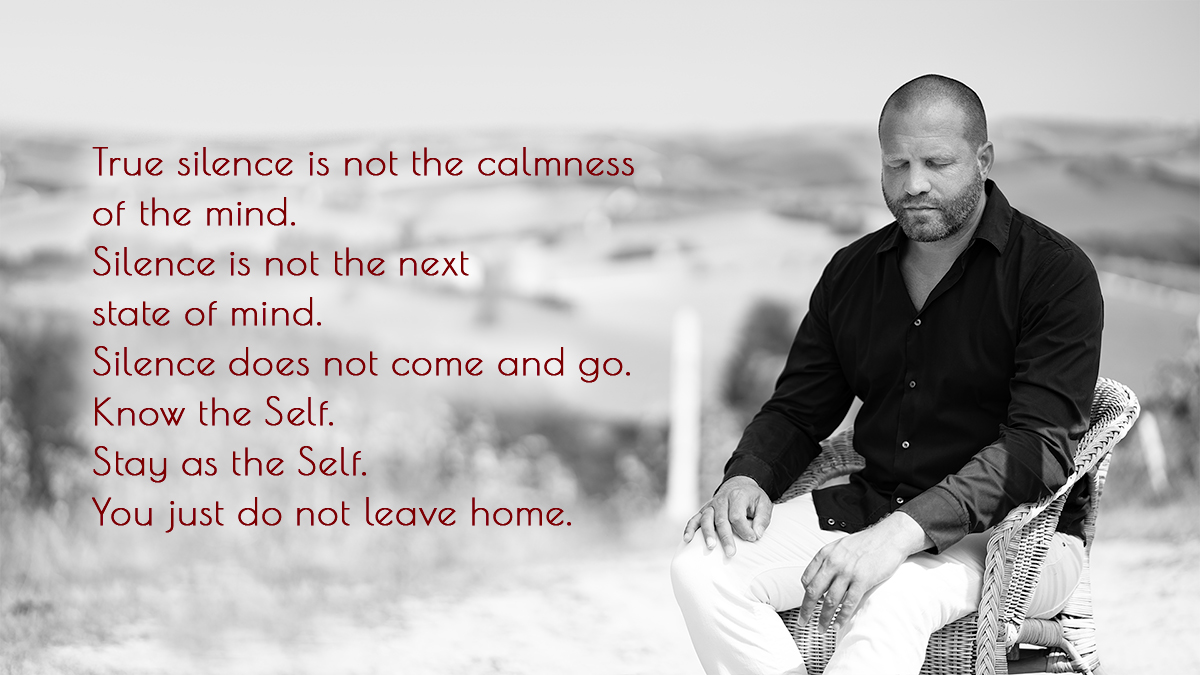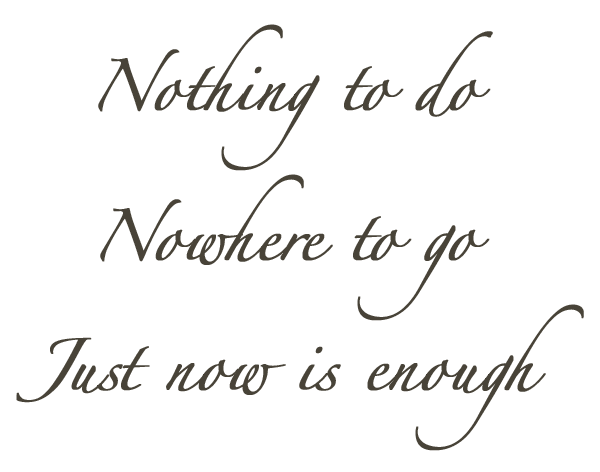 Form and formlessness
There is no more apt quote than that of Sri Ramakrishna to illustrate and unify the two aspects of our practice.
He said: "No one can say with ultimate certainty that God is only "like this" and not different. He is formless and on the other hand he has forms. For the Bhakta he takes forms – for the Jnana he is without form.
Brahman, absolute being-consciousness-bliss, is like a boundless ocean. In the ocean, when it is very cold, ice floes appear here and there. Similarly, the Infinite assumes finite forms, as it were under the cooling influence of the devotee's devotion, and appears before him as a divine person. But as with the rising of the sun the ice floes in the ocean melt, so with the awakening of Jnana the embodied God-form merges into the infinite and formless Brahman. Then the devotee no longer feels that God is a person, nor does he then have visions of God's forms.
But do not forget: form and formlessness belong to one and the same reality."