On the first Thursday you will get to know a series of yoga exercises (MP3) and a guided meditation (MP3) developed by Daniel, which supports your inner purification.
In preparation for the healing evening, we recommend that you continue the practice during the week. Please also make sure that you eat light meals and avoid mind-altering substances.
On the following Thursday Daniel will open an access to the healing and light-filled field of pure awareness, transmit light energy and respond to your deep spiritual concerns.
Practicing together (without Daniel), healing evening with Satsang 
Thursday, 21.10.2021, 07.00 p.m. – 08.30 p.m., 28.10.2021, 07.00 p.m. – 10.00 p.m.
Thursday, 25.11.2021, 07.00 p.m. – 08.30 p.m., 09.12.2021, 07.00 p.m. – 10.00 p.m.
The event can only be booked as a block, consisting the yogic practice and the following healing evening. Daniel's approval is required to participate in this event.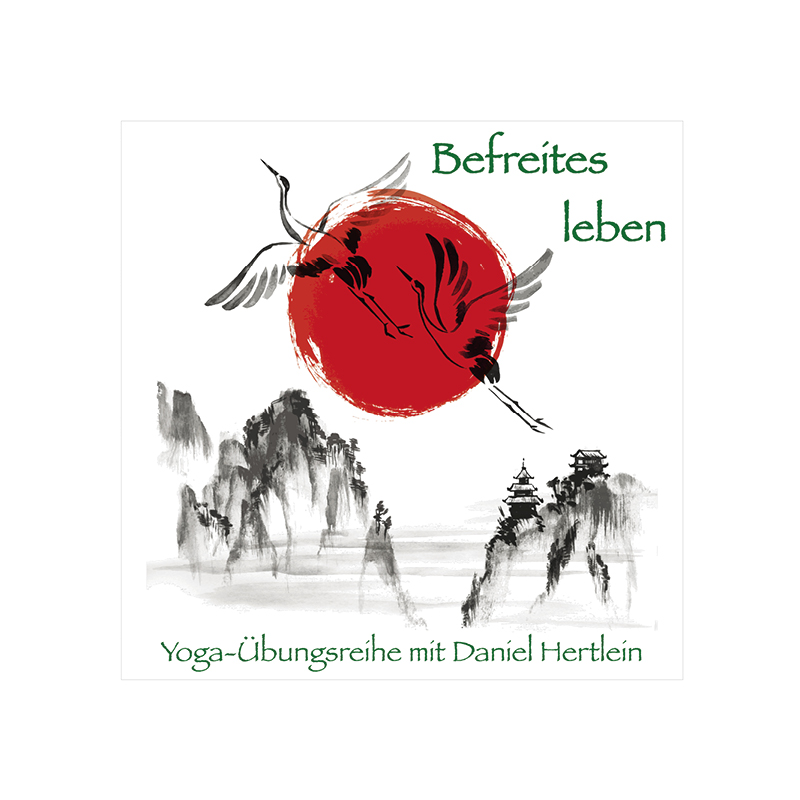 Durch Yoga deine Lebensenergie befreien
Audio CD oder Download im MP3 Format (27:55 Minuten)
Through Daniel's work I have found my faith anew. For me has opened the doors to a tangible, experiential spirituality. In meditations and treatments there have always been and still are physical "touches" – operative interventions in the subtle body – of light-filled beings of the spiritual world, which allow me to experience God's grace. I could recover from my depression and gastritis and was freed from long lasting, indefinable pain in my upper abdomen. Since then I feel new confidence in myself and experience more fulfilment in relationships. But the greatest gift is the inner stability I have gained through this and the knowledge that "something bigger" is taking care of me, accompanying and guiding me.

I have not grown up religiously or spiritually. After graduating from high school, I decided to study medicine and have been treating according to school medicine principles for many years. What I cannot see, experience or explain is not there for me. Some things you had to show me unbelievably often before they became reality for me – again and again you told me by the way events that I had experienced shortly before, which arrived shortly afterwards, or you expressed my thoughts or repeated conversations in which you were not present – before clairvoyance and clairaudience became more and more normal for me. You have made me see and experience quantum physical phenomena in meditations and introduced me to worlds that are otherwise only described by mystics. I am constantly experiencing physical, emotional, mental and spiritual healings, which very often happen on the sidelines and slowly transform me. Sometimes, however, it can also be experienced as a very targeted intervention and immediately has a visible and noticeable effect. An disc prolapse, allergies, sleep disorders have completely disappeared. I can't deny what I keep experiencing and seeing in others. I become more familiar with other levels of healing. Both – conventional medicine and spiritual healing – may be there, have their right and complement each other wonderfully.

Through the intensive work with "physical blockages" my life has changed fundamentally. I have learned to admit/allow my feelings, to accept my limits and yet not to regard them as absolute … I even became a mother, which seemed impossible from a medical point of view. Thank you for allowing me to experience a state of complete bliss through my time with you, even in times of serious illness. This is so infinitely valuable! Thank you for always showing me the way into this world of complete trust and for having such an unerring instinct for the "things in my life" that make me fall out of this wide space.

I was in a deep depression when I met Daniel. Thanks to his healing work, I soon found the strength to break away from medication and ineffective therapies and the strength to draw professional consequences that previously seemed impossible. The feeling of being driven was replaced by a joy of life unknown to me until then. Five years have passed since then and it is still in me: the clear YES to life.

I am very grateful for the healing that has taken place in my family. It is not just one person who has been cured of an illness, the whole family is cured. I see a lot of destructive and hurtful behavior in my family has alleviated or disappeared altogether – even though only I have worked with you. Deep wounds, years of silence, silent reproaches, mistrust, untouchable, painful experiences … all this was there. Today, not everything is still good, but we are all talking to each other again and what would have led to a drama in the past can be solved more easily today through an open, more forgiving cooperation. I can allow closeness with people again, I have become more open and touchable and can trust more easily. I dared to have a child and start a family myself. Five years ago all this would have been unimaginable.

I meet him where he repeatedly emphasized: "Do not seek me as a persona, but meet me in spirit and in your hearts! My broken arm no longer hurts and I move freely. This happened in a common meditation – online – when I suddenly felt an intense flow of energy reaching my body.

Since my childhood I had painful plantar warts on the sole of my foot and on the left palm of my hand, which despite years of medical and naturopathic therapy attempts – months of application of tinctures, icing, surgery – did not disappear or came back again and again. Especially in the palm of my hand it was incredibly unpleasant. I usually kept my left hand closed because I was very ashamed of the warts. This was also the case in a meditation with you until you came to me, opened my hand gently and spread the energy over my shoulder, arm and hand. The next morning all warts were gone. That was more than ten years ago. They never came back. When I told you about it, you replied that you were merely an impulse to dissolve the soul cause, but in the end my faith and trust in the divine power healed me.

I was able to release a negative karmic bond that went beyond death. For many days I felt an inner coldness and depressive mood in me, which I could not explain to myself. In one treatment I found that I was karmically bound to a deceased who asked me for forgiveness. When I accepted it deep in my heart, the cold left my body and I felt love. Since this experience I have realized that we are and will remain connected, preferably in love.

After a hernia operation with intubation anesthesia my voice went downhill rapidly. And a few days later, I could only speak "tonelessly". The various doctors I visited seemed to be puzzled, and the voice training that followed didn't bring any improvement either. Other alternative treatments were also unsuccessful and at my next visit to the doctor, I was told that he only saw the possibility of an operation on the vocal cords, which of course I was anything but enthusiastic about. After half a year … despite loving healing recommendations and various support … but still without a voice, my teacher Daniel invited me to Italy to practice together. The everyday practice I got involved in was a treatment in the whole of being human. On the fifth day, at dinner together, I was talking to him apparently voiceless, as usual, he said to me, almost casually and at the same time happily: "Do you hear it? Your voice is back." I had the sound in my voice again, which then increased steadily until I was able to speak normally a few days later. With great gratitude to the blessings of the common practice that Daniel imparts.

Until one session with Daniel, I always had an inner conflict between wanting to share and being reluctant out of fear. I have known this since I was born. During the treatment Daniel made me aware of a soul that was with me. This enabled me to even perceive him, his words, my connection and my feelings towards him. Daniel accompanied me through an inner communication with him and a group with which I was also karmically connected. I felt nothing in it full of light, a threat, but also an old belonging to them. Daniel helped me to meet them without fear and peacefully, and also to break away from them. Since then I no longer feel threatened, under pressure or in an inner struggle before or when I communicate. A big door has opened for my true self-expression and the tightness in my throat has disappeared.
Practicing together in a group with selected teaching material from our teacher Daniel offers the opportunity to deepen our practice in yoga and meditation. Discover and experience the power of practicing together and a healing togetherness through the common focus on the light of our soul.
Date:
Thursday, 07.10.2021, 07.00 p.m. – 08.30 p.m.
Thursday, 11.11.2021, 07.00 p.m. – 08.30 p.m.
Thursday, 18.11.2021, 07.00 p.m. – 08.30 p.m.
Place:
Seminarhaus Gronsdorf, Peter-Wolfram-Str. 31, 85540 Gronsdorf (bei München)