Online Meditations
every Tuesday at 07.30 p.m.
Instructions for the soul – to release your inner strength

A teacher will try in various ways to throw you out of the conceptual mind. In this moment you are in free flight far away from your concepts of the world … and your awakening has a chance.
22 October, Thursday - 19:00 - 12:00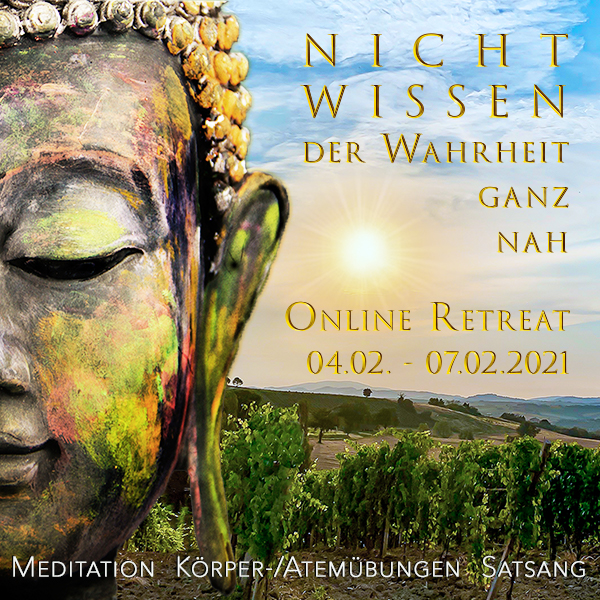 04 February, Thursday - 19:00 - 12:00

Online Individual Sessions
INDIVIDUAL GUIDANCE
Essential contents of the spiritual session:
Freeing from physical blocks, suppressed feelings and emotions
Dissolving of fears, restrictive patterns of thought and dogmas
Perceiving and releasing of energetic dynamics and karmic entanglements
Development of deep acceptance of self and honest charity
Learning a healthful way of working with medial gifts
Opening for the soul's tasks and guidance towards the divine
Finding out of a joyful development of the soul and an authentic existence
Informations and registration
Online Individual Sessions
Tuesday 02.00 – 06.00 p.m.
Wednesday 02.00 – 06.00 p.m.
Thursday 02.00 – 06.00 p.m.
Price: per Zoom/Phone 60,00 € (30 minutes)
An encounter with Daniel is like a highway ride straight into my heart – there is no chance for a detour.

Daniel has opened up new paths for me … including ups and downs … experienced in a deep and conscious way. My life has become more colourful and I see and appreciate the beauty.

Daniel has taught me a new language – the language of my heart. That is why I can be close to the most important person in my life: myself! And in a fascinating way this enables me to be close to everybody else.

Clear confrontation: Daniel gets to the bottom of things revealing the genuine truth. The results are convincing.

Daniel is a master for teachers … he can easily switch between the different levels and understands how to clearly communicate complex contents and how to transfer them effectively into everyday life

Daniel has shown me that I am the creator of my own reality and that I can always lead the life I want. Since then, I have had the feeling that I am finally living my life.

A one hundred percent accurate feedback on my own topics. Daniel does not provide immediate solutions – he doesn't give in until I can take an entirely mature decision on myself.

Working with Daniel enhances my trust in the mere existence and in the present moment. As soon as I position myself clearly following my heart, solutions arise in an almost systemic manner.
You can join via phone or computer. We are using zoom for livestreaming. But you don´t need an account at zoom, only download the app. The app or software has to be installed only for your first participation. Only if you use another source (tablet etc.) you have to install it there, too. We recommand to install zoom a time before the event, so you can familiarize yourself with the settings.
Here is the link, which installs zoom on your computer immediatly: download now. For your mobile phone the app is called "zoom cloud meetings"
Via the URL, which we will send you on the day of the event, you will be directed to the event. It is the simplest way.
Alternative please click "join a meeting" on the website https://zoom.us/, and write the link or the numbers, which are in the link.
Prepare yourself some minutes before the event starts and relax. Be at a place where you are undisturbed. We recommend to sit upright (on a chair or on the floor, in the lotus position or heels sitting).
At the event your name is visible for the other participants. You can turn your camera on and off before you join the event or during the event. Is your camera turned off, the other participants can´t see you.
In principle the sound of all participants is turned out. Daniel turns off the sound of all participants at the beginning of the event.
If there is an interruption during the stream, please wait until the connection is build up again.